†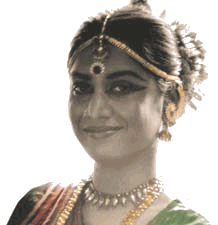 Surupa Sen
Surupa Sen, one of the first students of the Raymond Odissi Gurukal at Nrityagram is being acknowlegded as a dancer of international repute.
In her early years, she trained to be a Bharata natyam exponent under Guru V.S. Ramamurthy of Hyderabad . Enchanted by the beauty of the style and form of Odissi, she joined Nrityagram and trained under the legendary Guru Kelucharan Mahapatra and later under equally reknowned Gurus Ramani Rajan Jena, Protima Gauri Bedi and Kalanidhi Narayanan.
Endowed with a charming countenance, her movements have acquired a tensile strength to hold sway on the viewers. Surupa possesses not merely the technical virtuosity, but the glowing fires in her very soul (S.N. Chandrashekar in Indian Express). While the accolades are pouring in, Surupa has not rested on the laurels. Her paper on " Male dancing in Odissi " was selected as the best presentation at the August gathering of the dance world, the Krishna Gana Sabha, Madras. In addition, she is performing at prestigious events both in India and abroad.
Surupa, as the reknowned dansuese Protima Gauri Bedi says, is a star and will be a legend soon.
Meera Das
Meera has been receiving rare reviews from discerning critics and admiration from audiences for her authentic renderings of the great Indian classical dance, Odissi.
Starting early in life, Meera had taken to dance and music rather instinctively. As a child-artiste, while she excelled in bandha Nrutya-- a folk dance form involving acrobatic movements-- under the tutelage of Guru Gangadhar Nayak, it was the love of music that brought Meera to the Odissi Research Centre.
The intrinsic talents of Meera flourished under the great masters like Padmabhusan Kelucharan Mohapatra and Guru Gangadhar Pradhan. Soon Meera joined the chosen few of the Odissi repertoire company of the Odissi Research Centre to perform in many prestigious programmes throughout the country.
Sponsored by the Indian Council for Cultural Relations [ICCR], Meera has performed in North Korea in 1990 and in Germany during the Indian Festival 1992. She has also performed in Indonesia in the Festival of Kalinga Bali Yatra 1993.
Now a distinguished name in the reference panel of artistes of ICCR, and also as a dance executive of the Odissi Research Centre, Meera is fully dedicated to her cultural mission. She is imparting advanced level training to groups of students while presenting Odissi recitals -- solo as well as with her troupe-- in India and abroad.
Jyoti Srivastava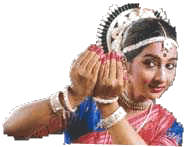 Jyoti has cultivated a life long devotion to Classical Indian Dance since her first performance at the very early age of four. She has studied under some of the most revered Gurus : Valmiki Banerjee, Durga Charan Ranbir and Srinath Raut. She also studied Mohiniattam, Manipuri and various folk dance forms. She earned an M. Phil in classical music which gave her a more indepth understanding of dance. She is also an avid Yoga practitioner. However, of all these pursuits, her heart is captivated by the Odissi dance form. Jyoti has received various Scholarship fellowships titles and awards for her expertise in this field. "SRINAGAR MANI" was conferred on her by Sur Singar Samsad of Bombay. She has worked for two years with Guru Ramli Ibrahim in Malaysia. During this period, she assisted in the productions of his Sutra Dance Theatre. She has also done indepth research and training on the style and compositions of Guru Deb Prasad Das in her capacity as the Director of the Nehru Institute of Odissi Research and Training in Delhi. She has organized international seminars, symposia and training programmes for aspiring young dancers.
Durga Bhor
Durga Bor began her studies in Odissi Classical Dance at Naropa Institute, Boulder, Colorado, in 1975. In 1976 she went to India to study in New Delhi under Guru Surendranath Jena at Triveni Kala Sangam and received her diploma in 1981. She was subsequently invited by the National Centre for the Performing Arts, Bombay, to participate in an intensive study program under the guidance of the renowned Odissi master, Guru Kelu Charan Mohaptra. She returned to India in 1989 for 14 months after being awarded a Professional Development Fellowship by the American Institute of Indian Studies. During that period she studied in Bhubaneswar, Orissa, at the Odissi Research Centre and received intensive training from Guru Gangadhar Pradhan at the Orissa Dance Academy, doing both practical study and research. She returned to the United States in 1994, after being based in Amsterdam for 13 years, where she taught at the ISTAR School for Indian Music and Dance, De Nieuw Amsterdam Theatre School, and Muziekschool Amsterdam's Wereld Muziekschoool. She has been teaching classical Indian dance and South Asian dance history and theory at Cornell since spring 1995 and has recently taught at Syracuse University and will teach there again in spring 1999.
Ratna Roy
Ratna Roy was trained in India in classical Orissi dance, both the womenís (mahari) and the menís (gotipua) traditions, and is one of the few remaining dancers who practice the womenís dances in Orissi style, including the Panchakanya (Five Virtuous Women). She studied under Guru Pankaj Charan Das, the guru of gurus, son of a Mahari (temple dancer) at the Jagannatha Temple in Puri. Ratna Roy has received two Fulbrights, an American Institute of Indian Studies Fellowship, and the National Endowment for the Arts Choreography Award for her dance and has performed and conducted workshops internationally. Her latest research work is in dance for self-empowerment of women and dance therapy.
She has performed in several countries, including India, Great Britain, the Baltics, Indonesia, Singapore, China, and Japan. She did a performance and workshop at the NGO Forum of the UN Conference on Women in China in 1995 and toured the Kansai area in Japan with a Japanese company, Lasenkan, in 1996. In addition to her work teaching at The Evergreen State College, and developing an accredited three year curriculum in Orissi dance there, Ratna has her own Dance Company, Urvasi, made up of her most advanced dancers. Several dancers, trained by Ratna, are now performing in the United States, Canada, and Japan. She was invited by the Philippine Educational Theatre Association ( PETA) to conduct a two-week workshop in the Philippines, April 1998.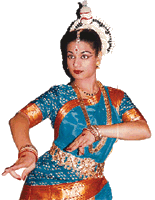 Ellora Patnaik
Under the guidance of her mother, Chitralekha Patnaik, Ellora began her dance training at the age of seven. She has studied intensively under the leading gurus of the Odissi style in Orissa, including advanced work in expressive dance-acting (abhinaya) with the famous dancer Padmasri Sanjukta Panigraha. Ellora has performed extensively in North America. Recent credits include performances for the U.S. Department of the Navy, the World Hunger Project and the Folk Arts Council at Ontario Place in Toronto. She was recently the recipient of a grant from the Chalmers Fund administered by the Ontario Arts Council. Ms Patnaik is available for teaching, master classes, lecture demonstrations and performances through Lotus Fine Arts Productions, Inc.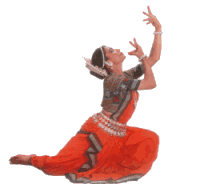 Bijoyini Satpathy
In 1993, there came to Nrityagram a dancer burning with the fire of centuries, a child of Odissi, Bijayini Sathpathy, the daughter of Jagannath and Lakshmi Sathpathy. she began to dance when she was seven at the Orissa Dance Academy, Bhubaneshwar. With each passing year, even as she learnt more, her thirst for more knowledge grew sharper, and she sought more gurus to teach her. That quest brought her to Nrityagram, to the Raymond Odissi Gurukul.
"All I want to do in life is dance. I dance to satisfy my soul. In the process, if it pleases the audience, that is my reward." This philosophy of life evolved over seventeen years of dancing. As Bijayani speaks, she remembers her childhood, growing up surrounded by music. Her parents, her brother and sister are all musicians, with music in their soul.
At Nrityagram, Bijayini found peace. Here, dance is worship, dance is life. Here, she could experience other dance forms and artists from all over the world. Her mind expanded, her repertory improved by leaps and bounds. Her dance became lyrical, poetic,as Nrityagram embraced in its folds the one who said,"I have always identified myself as a dancer"
Shreyasi Dey

†
†
†
†
†
†
†
Sreyashi's initial dance training was in Bharata Natyam, which she learned and performed (including her arangetram) for over ten years. Attracted by the beauty and grace of Odissi, she began learning Odissi from renowned Gurus Mayadhar Raut and Harekrishna Behera. She began performing Odissi after a period of intensive training with them.
Sreyashi has performed in many prestigious dance festivals all over India, including ones organized by premier institutions in India.
She has performed in numerous programs on Indian TV. She has been involved in dance-related projects - she was a regular participant in lecture-demonstration programs that made classical dance available to rural schools in India. She has been involved in fundraising through cultural programs for non-profit organizations that support literacy programs in India.
Apart from her dedication to preserving the rigorous classical style of Odissi, Sreyashi is constantly expanding her creative horizons and experiences with new collaborations and choreographies. She has collaborated with a video artiste in a multi-media presentation to interpret Mahashweta Devi's short story, The Hunt. She is presently working with a performer (dancer, musician and drummer) from Uganda, Africa to creatively explore the many identities a woman assumes in her life and the significance of rhythm in the two cultures. She is also working on a dance theater composition of Kalidasa's Sanskrit play Meghadutam.
Sreyashi was a dancer of repute when she moved to the US in 1987 to pursue graduate studies in Economics and Business. Since then she has performed all over the country. She has lived in the San Francisco Bay Area where she was active in its vibrant cultural environment. She has lived in Pittsburgh since 1995 where she performs and teaches Odissi. In addition, she has established many creative links with the broader artistic community in Pittsburgh.
She maintains her growth as an Odissi dancer by regular trips to India when she undergoes further advanced and rigorous training with her Guru. She continues to perform in Pittsburgh and other cities in the US as well as in India. Her recent solo performance at the prestigious India Habitat Center, New Delhi, was a major landmark, highly praised by critics as well as dance lovers.
In addition to dance, Sreyashi pursues a full time parallel career in marketing management. She graduated from St. Stephen's College, University of Delhi, in Economics. She has a Masters degree in Economics and another one in business (MBA).
Rekha Tandon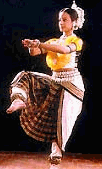 Rekha received the major part of her training in Odissi in Guru Kelucharan Mohapatra's style, form Shrimati Madhavi Mudgal at Gandharva Mahavidyalaya, New Delhi. She is now developing new repertoire in the classical mould, under the guidance of Guru Trinath Maharana.
As a performer, Rekha has touched audiences with her sensitive portrayal of the many performances to her credit, both in India and around the world - Japan, South Africa, the Middle East, most of Europe and the Americas. She has also acted and danced for television's Doordarshan, New Delhi.
Rekha assisted Shrimati Madhavi Mudgal with teaching Odissi at Gandharva Mahavidhyalaya between 1985-90. Subsequently, she has held workshops on Odissi for young children, theatre students and professional dancers, both in the UK and the USA. Her research has led her to develop teaching practices which incorporate yoga, movement analysis and improvisation.
Margaret I Hunt
Ms. Hunt has taught dance and interdisciplinary arts studies at Evergreen for many years. She studied modern dance at The Ohio State University and obtained her Masterís Degree in dance from Temple University, where she was also a member of Group Motion company. She has performed solo contemporary dance works at Evergreen and around the Northwest. She has studied Orissi dance in India with Guru Ramani Ranjan Jena and in the United States with Dr. Ratna Roy, and she has performed Orissi dance around the region, most recently in Fairbanks, Alaska.