Odissi is considered to be one of the oldest surviving dance forms based on archaeological evidence. The traditional dance form of Orissa, it owes its origin to the temple dances of the devadasis (temple dancers). Possibly, the oldest classical dance form in the country, Odissi has been mentioned in inscriptions, depicted on sculptures, in temples like the Brahmeswara and the dancing hall of the Sun Temple at Konark. In the 1950s, the entire dance form was revitalised, thanks to the Abhinaya Chandrika and sculpted dance poses found in temples.

Odissi as we know it today is the result of a long process of reconstruction from various dance traditions of Orissa, for instance the Maharis, the Goti puas and the Bhandanritya traditions. Maharis are the counterparts of the Devadasis of the South. Gotipuas are men who dressed as female dancers and danced like the Maharis.

While the form is curvaceous, concentrating on the tribhang or the division of the body into three parts, head, bust and torso; the mudras and the expressions are similar to those of Bharatnatyam. Odissi performances are replete with lores of the eighth incarnation of Vishnu, Lord Krishna. It is a soft, lyrical classical dance which depicts the ambience of Orissa and the philosophy of its most popular deity, Lord Jagannath.

Odissi is based on the popular devotion to Lord Krishna and the verses of the Sanskrit play Geet Govinda are used to depict the love and devotion to God. The Odissi dancers use their head, bust and torso in soft flowing movements to express specific moods and emotions.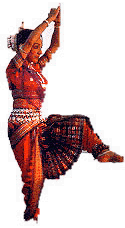 Indian Classical Dances
Dance is the loftiest, the most moving, the most beautiful of the arts, because it is no mere translation or abstraction from life; it is life itself.